Axion Power International, Inc. (OTCMKTS:AXPW) Sinks Down The Chart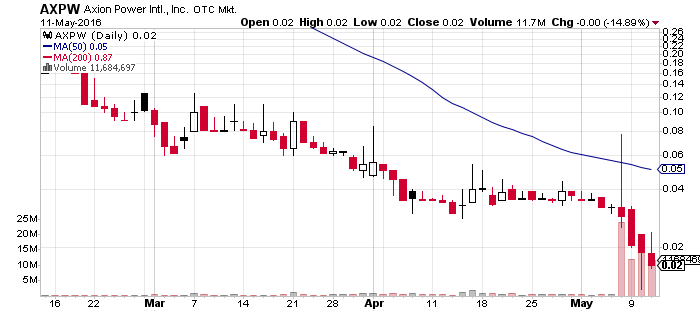 So far the stock of Axion Power International, Inc. (OTCMKTS:AXPW) has registered four consecutive sessions of losses. Yesterday the ticker sunk to a new record low closing price of $0.016 after it slashed another 14.9% of its value. The trade volume for the day was once again massive – investors shifted over 11.6 million shares compared to a monthly average of around 2.2 million.
It seems that investors are in no way swayed by the PRs being issued by AXPW. On May 6 the company announced that it will renew the negotiations towards a licensing agreement that will bring AXPW's PbC Battery Technology to China but on that day the stock closed over 9% in the red. Yesterday the company published a PR, in which it talked about it Off-Grid Solar Light Kit, and this time the losses were even bigger.
Explaining the extremely negative sentiment displayed by the market may not be that hard, though. Opening the annual report that was filed on April 12 reveals that AXPW finished 2015 with:
• $1 million cash
• $8.8 million total current assets
• $8.76 million total current liabilities
• $600 thousand net sales
• $7.39 million net loss
Compared to 2014 the balance sheet shows some serious deterioration. The annual sales of the company are down from $4.6 million to just $600 thousand. At the same time the costs of goods sold have remained significant and as a result AXPW finished 2015 with a gross loss of over $2.2 million. Even the sizable assets become far less impressive when you take into consideration that $7.15 million of them consist of restricted cash.
Back in November 2015 AXPW sold convertible notes and warrants for $9 million in gross proceeds. Out of that amount $1.85 million were in cash while the rest comprised the aforementioned $7.15 million in restricted cash. On February 12, 2016, the S-1 registration statement with respect to this financing was declared effective and the flood gates were now open – between that date and April 8 a total of 11,701,474 shares were issued. The outstanding shares of the company grew from less than 4 million at the end of 2015 to nearly 15.7 million as of April 8, this year.
When deciding whether to trade AXPW's stock or not you should also keep in mind that the company is looking to obtain stockholder approval for a new reverse split at a ratio between 1-for-20 and 1-for-50 that, if approved, could be implemented at any point prior to December 31, 2016.