CannaGrow Holdings (OTCMKTS:CGRW) Gets Some Attention
tags: CGRW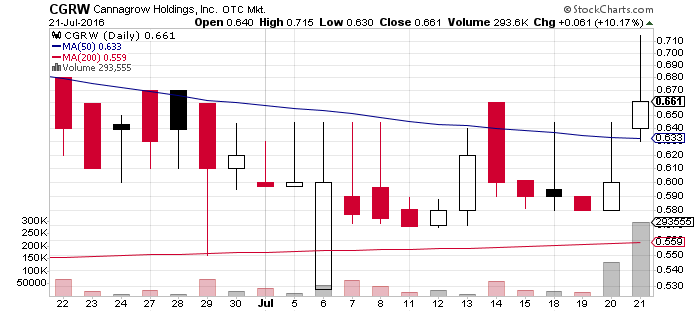 CannaGrow Holdings (OTCMKTS:CGRW) managed two pretty good runs after making its latest announcement – but will its luck hold?
One thing is for sure – CGRW talks big, and its words can attract a lot of attention. As a matter of fact, it looks pretty much like bold words are about the only thing driving it onwards. It certainly has made a lot of claims over the last couple of months, but as far as its financial reports can show, its progress can be called questionable at best:
Cash – $9 thousand
Total Current Assets – $30 thousand
Total Current Liabilities – $3.1 MILLION
Revenues – $10 thousand
Net loss – $98 thousand
Even if you take CGRW's boastful words as gold, there is no way any achievement the company has made since it last filed could ever bridge the gap between its mediocre financials and the company's current market cap of $67 MILLION. Suffice it to say that such a high market value is more fitting for a fully functioning entity, or a company on the receiving end of a paid pump. Since CGRW is neither of those things, a correction of its chart position certainly seems in order.
Additionally, there's the fact that CGRW's latest financial report detailed that as of the end of Q1 2016 the company had over $2.4 MILLION worth of notes outstanding, as well as millions of preferred shares. All of these are convertible into shares of the company's common stock, and although said report didn't mention anything about discounts, ignoring the threat said stock related shenanigans pose to investor value could prove disastrous in both the long term and the short.
So let's recap. What we have here is an OTC Markets pinksheets underachiever that talks big, but is yet to deliver on any front. It has very little but debt to its name, and said debt could well end up being a serious threat to investor value.

With this in mind, would it be any wonder if CGRW failed to continue upward for very long, or even maintain its gains?