CES Synergies Inc. (OTCBB:CESX) Blasts Оff On Heavy Volume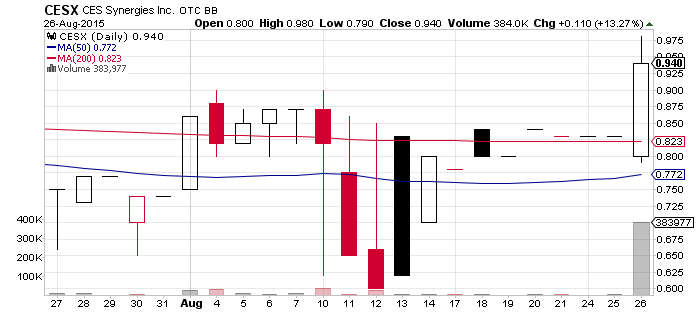 After months of inertia, CES Synergies Inc. (OTCBB:CESX) finally saw some active trading yesterday, and was pushed 13.27% up the charts to boot.
This turn of events could be called "unexpected" at the very least. Why?
Because CESX had been gathering dust in OTC Markets' limbo for quite some time now, and its stock was nearly illiquid during the last few months. Further, there does not appear to be an obvious reason for it to get on the investors' radar just now. The company's latest financial report was filed more than two weeks ago and it impressed no one, and CESX's media exposure since that time doesn't appear to have been the cause for much interest either.
Currently, CESX's chart pattern is reminiscent of a lazy OTC Markets paid pump – but there doesn't seem to be anything of the sort going on here either. So, for all intents and purposes, CESX seems to be on a mystery run. But how long will said run last?
Long story short – it is difficult to determine that. Some due diligence on CESX yields the following numbers:
Cash – $193 thousand
Total current assets – $4.9 million
Total current liabilities – $4.9 million
Revenues – $5.1 million
Net Loss – $1.2 million
These figures certainly leave a lot to be desired, but to the company's credit it certainly does not appear to be idle, in spite of its obvious lack of cash on hand. There is, of course, the matter of the $1.9 million that CESX has mentioned under "Convertible notes payable" – no clarification about that number seems to be available in its report.
On the other hand, dilution does not seem to be an issue with CESX. Its shares outstanding have not changed in more than a year, so it has that going for it at least.
In conclusion, what do we have on CESX? It is a company with very little achievements to date, that has been kicked into motion by an unknown force.
Seasoned investors would have noticed by now that there are too many variables and unknowns in this situation – which is why it would be wise for anyone wishing to trade CESX stock to tread lightly.