EFactor Group Corp (OTCMKTS:EFCT) Crumbles Under the Weight of the Pump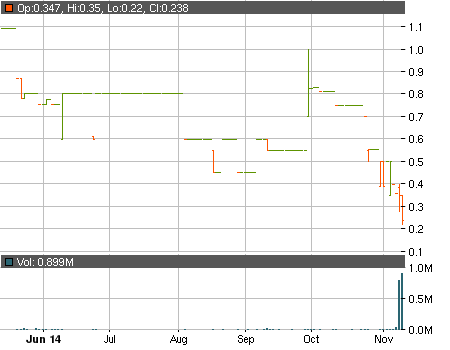 At least as far as emails are concerned, EFactor Group Corp (OTCMKTS:EFCT) has been one of the most heavily touted stocks from the last few days. The paid pump began after the closing bell on Friday when we received the first alert from Nathan Gold. After that, thirty-three more emails hit our inbox, with the last one sent by Penny Stock Prophet about an hour before the start of yesterday's session.
According to our database, the total budget amounts to more than $100 thousand which is quite a lot for an email promotion. So, time to see what the results are.
"Terrible" could be an appropriate description. As we mentioned already, the emails started flying around after the end of last week's trading which means that they didn't really have any effect on the ticker on Friday. On Monday, EFCT saw some increased volumes, but instead of going up, it hit a new 52-week low of $0.28 and finished the day at $0.348 (3% in the red). The behavior was far from expected, but apparently, the pumpers were relieved to see the absence of a steeper drop.
Touting continued, but yesterday, EFCT disappointed even the most forward-looking promoters. It opened the day with a small gap down and it immediately started shedding large chunks of its market cap. After six and a half hours of digging a hole in the ground, the closing bell stopped it at just $0.238 per share. In other words, EFCT wiped out 31% of its value in a matter of a single session and, as an added bonus, it logged another 52-week low of just $0.22.
And all this came from a stock that was hovering comfortably above the $0.70 per share mark less than three weeks ago. If you are new to the world of penny stocks and if you weren't aware of the dangers of paid promotions, you should be now.
Still, we cover pumped stocks on a daily basis around here and we can see that some perform better than others. We can't help but ask: "Why did EFCT tumble so hard and so fast?".
Unfortunately getting to the answer is quite difficult. Once you start looking into the SEC filings, you'll see that at the end of Q2, EFCT had:
$126 thousand in cash
$4.7 million in current assets
$6.1 million in current liabilities
$148 thousand in quarterly revenues
a quarterly net loss of around $1.4 million
Indeed, the company is still a long way away from setting Wall Street on fire, but at least it's a working entity which is more than can be said about other pumped OTC tickers.
There isn't even any particularly toxic debt worth talking about. Indeed, there are some convertible notes, but the rates that they carry are fixed and hover around $0.50 per share. Despite this, EFCT has failed at protecting its shareholders from dilution.
Quite a lot of acquisitions of new businesses were completed during the first half of the year and due to the lack of cash, they were all closed with the issuance of shares. As a result, the O/S count grew from 59 million at the end of 2013 to 64 million on June 30. Want to guess where it stands at the moment?
Around 95 million.
EFCT started today's session on the wrong foot as well and about forty minutes after the opening bell, it's traded at just over $0.18 per share (a whopping 23% in the red).