GrowBlox Sciences, Inc. (OTCMKTS:GBLX) Crashes on Absence of News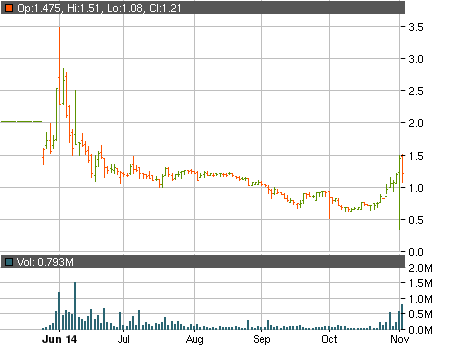 As we said in our previous article the stock of GrowBlox Sciences, Inc. (OTCMKTS:GBLX) was making one impressive recovery. For six sessions in a row it went nowhere but up and on Monday it came just short of $1.50 closing at $1.45. Many of the marijuana pennystocks also enjoyed positive chart movements pushed by the hype around yesterday's midterm elections but GrowBlox had another reason to climb.
Back in August they applied for 3 licenses for dispensaries and 1 for a cultivation facility in the state of Nevada. The period for approval was until November 3 and investors were eager to learn if GBLX got their licenses. On Monday the company issued a PR but it announced that a cannabis conference will be hosted by GrowBlox. Furthermore they did not give their consent to be revealed in the list of approved companies (dispensaries and cultivation).
The lack of news caused investors to take a step back and as a result yesterday the stock suffered a severe correction. It dropped down almost from the get-go and at the time of the closing bell had slumped to $1.21, a loss of more than 16%. In mid-October the ticker slid below 75 cents and if indeed GBLX failed to get the licenses another downwards trend could form.
Another cause for concern is the possible dilution of the common stock. A S-1 statement for the registration of 29.7 million shares has been filed. The amount of shares is almost equal to the 32 million outstanding shares reported on August 12. Through a conversion of notes GBLX has also issued around 5.1 million shares at just $0.26 and they too could influence the stock negatively.
Without official confirmation about the outcome of the license process investors might continue to take profits at the current market price. Do your own due diligence and decide on appropriate time horizons for your investment.