Guided Therapeutics Inc (OTCBB:GTHP) Takes Another Big Hit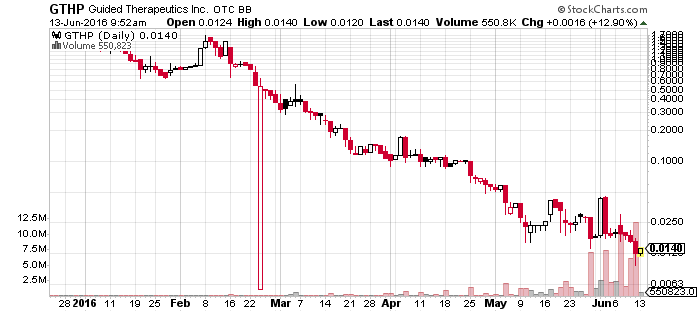 The stock of Guided Therapeutics Inc (OTCBB:GTHP) has had a very poor performance since the beginning of the year. The company has lost a huge amount of the value it had back in the beginning of 2016 and we see that the volumes have also gone up significantly in recent sessions.
One of the main reasons for the downward direction which GTHP has kept for such a long time is the massive dilution that followed the 1-for-100 reverse split that was exercised in the beginning of the year. While it reduced the outstanding share count of the company stock to 3.15 million in the beginning of March we see that this amount has gone up nearly 10 times in a matter of just a couple of months.
Meanwhile, the financial state of GTHP isn't all that great either. Here are just some of the numbers contained in the company's latest report.
cash: $56 thousand
current assets: $2.05 million
total liabilities: $6 million
quarterly revenues: $262 thousand
operating loss: $1.13 million
Those numbers are certainly not something worth to write home about. Still, GTHP's market cap has gone very low, even by OTC marketplace standards. The stock, however, showed no intentions of reversing its direction and lost another quarter of its value in Friday's session, closing the week at $0.013, while a total of 11.78 million traded shares generated $153 thousand in daily dollar volume.
Earlier this morning we saw GTHP issue a press release which contained some exaggerated numbers, but it still managed to push the ticker up the charts. The company stock is 12.90% up in early trading today, but that doesn't mean that you should skip doing your due diligence and weighing out the risks before putting any money on the line.