International Spirit (OTCMKTS:ISBG) Striding Towards the $0.02 Mark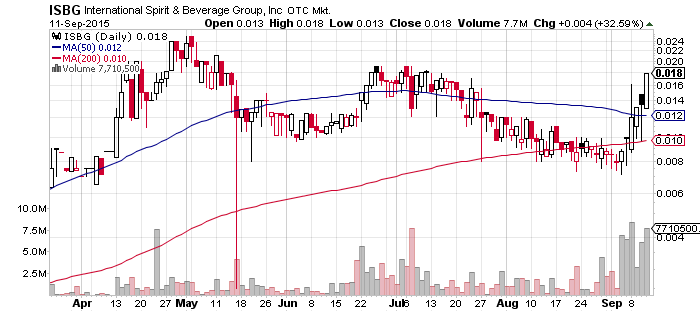 About a year ago, Alonzo Pierce, International Spirit (OTCMKTS:ISBG)'s President, was trying to convince investors that the Besado tequila and the Dziaq liqueur will make them very rich. The investors in question weren't interested in ISBG, however. They were contemplating a potential investment in Top Shelf Brands Holdings Corp (OTCMKTS:DKTS).
DKTS held the right to the aforementioned brands and Mr. Pierce (who acted as a CEO there) was promising some great results. Unfortunately, the lack of any financial reports filed by the company over the last four and a half months shows that things have not been going according to plan. DKTS' latest statement covers the year ended December 2014 and with only $112 thousand in sales and a net loss of about $240 thousand, it's a far cry from the figures Mr. Pierce was predicting. The missing reports mean that we can't be sure whether Mr. Pierce is still working for DKTS as well.
While he seems to have given up on DKTS, however, he still has high hopes for the aforementioned alcoholic beverages. Currently, ISBG holds the rights to the Besado tequila and the Dziaq liqueur, and Mr. Pierce is once again working hard to convince the investment community that the potential is massive. In their latest press release, for example, he and the rest of the management team told investors that the numerous celebrity endorsements will help ISBG shift its tequila like hot cakes.
Apparently, there are people who tend to agree. On Friday, ISBG logged its sixth consecutive green session and after 32% jump, it stopped at $0.018 per share on a dollar volume of $115 thousand. People have no problems putting their money on the line, and a possible reason for this is the fact that ISBG's financial statement is not quite as hideous as some of the reports presented by other OTC companies. Here's a summary of the most important figures:
cash: $825,548
current assets: $846,570
current liabilities: $320,526
NO revenue
quarterly net loss: $109,493
Indeed, we'll need to wait and see whether it will be second time lucky for Mr. Pierce and whether this time his projections will actually be closer to reality. If that turns out to be the case, ISBG will be given the chance to fly. Or will it?
The ticker will have some serious problems breaking through the $0.02 mark if a vast amount of absurdly discounted stock hits the open market, and unfortunately, some people might be in possession of… yes, you guessed it, a vast amount of absurdly discounted stock.
In March, the people in question converted $1,000 worth of principal under a certain convertible note into 100,000,000 shares of ISBG common stock. No, it's not a typo. The conversion rate really is fixed at $0.00001 per share (that's four zeros) and on June 30 there was $4,764 worth of principal still outstanding under the same note.