Max Sound Corp (OTCBB:MAXD) Logs Another Impressive Session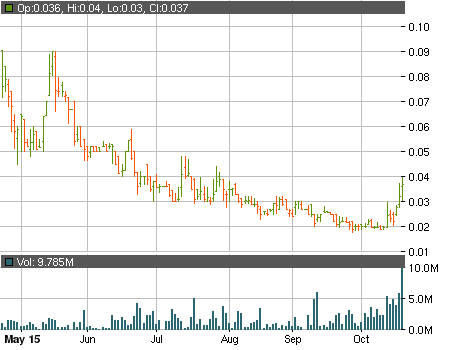 For the past three sessions the stock of Max Sound Corp (OTCBB:MAXD) has been making huge jumps up the chart. After closing another 15.6% in the green yesterday the company is currently sitting at $0.037 per share, prices it last visited at the start of August. Interest towards the stock is also on the rise and a new record daily volume of nearly 9.8 million shares was reached. As a whole the recent performance has been extremely positive but there is one problem – the stock's ascent has not been supported by anything substantial.
In fact if you start digging a bit deeper you will see that MAXD is simply surrounded by red flags. They have not issued a single PR in over a month and the same can be said about their SEC filings. At the same time the last reported financial results were simply atrocious – the quarterly report for the period ended June 30 contained the following:
• $6,125 cash
• $89,655 current assets
• $6,085,238 current liabilities
• ZERO revenues
• $2,831,325 net loss
So, just four months ago MAXD had almost no cash reserves, working capital deficit of just below $6 million and are still incurring massive losses. In order to fund its operations the company has been relying primarily on the issuance of convertible debt. Just for the first half of 2015 nearly $2 million worth of new convertible notes were issued. On page 12 of the quarterly report MAXD state that their convertible debt balance as of June 30 was $3.16 million. Between July 2 and August 7 another $425 thousand of similar convertible notes were sold. Keep in mind that the notes can be turned into shares at discounts to the market price ranging from 25% to 40%.
The only thing that is attracting investors towards the company is the fact that MAXD has filed two patent infringement lawsuits against Google and YouTube. On September 17 Max Sound announced that they have managed to pay the German Court filing fees, that the date for the final hearing has been scheduled for December 8 and that a court decision is expected a few weeks after that. A favorable ruling will be massive for MAXD but there are no guarantees that this will indeed be the case.
There are still approximately two months before the final verdict on the case is announced and the stock could continue to enjoy some intense trading in that period. The heightened volatility certainly offers some opportunities for quick gains but the risks should not be taken lightly. Especially if more notes are being turned into millions of discounted shares that could be unleashed on the market.