Premier Biomedical Inc (OTCMKTS:BIEI) Accelerates Its Drop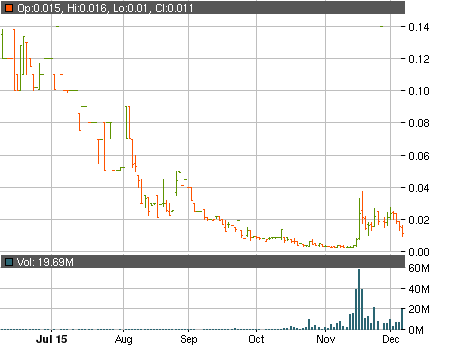 Premier Biomedical Inc (OTCMKTS:BIEI) has closed in the red for four sessions in a row now and the daily losses have been massive. Yesterday the ticker wiped over a quarter of its value, 26.45% to be precise, and dropped to a close at $0.0114. The traded volume for the session of 19 million shares nearly doubled the monthly average. Compared to its close at $0.0239 at the start of the month BIEI is currently sitting over 52% lower.
Last month the company obtained the exclusive rights to the U.S. patent application "Sequential Extracorporeal Treatment of Bodily Fluids". In the PR for it the CEO of the company stated that the company has plans to present its "stunning results" to the American Association for Cancer Research (AACR) in December. If the results are indeed so impressive investors could get excited about BIEI once more and the stock could stop its sharp decline.
Jumping into the ticker without sufficient due diligence may not be a wise decision though. A couple of weeks ago BIEI filed their financial report for the quarter ended September 30 and it contained some rather troubling information. Let's start with the balance sheet:
• $73 thousand cash
• $87 thousand total current assets
• $516 thousand total liabilities
• ZERO revenues
• $189 thousand net loss
It is obvious that BIEI is in a dire financial state but this is far from the only red flag that should be taken into account. At the end of September the company had around $133 thousand worth of convertible notes outstanding. The subsequent events section of the report reveals that in just a month and a half, between October 1 and November 17, approximately $95 thousand of the convertible debt was turned into 39.5 million shares. As a result the outstanding shares of the company more than doubled – from 26 million at the end of September to over 60 million as of November 20.
With an average conversion price of $0.0024 the people who got the millions upon millions of discounted shares could still reap enormous gains even at the current market price of the stock. That is why any trades involving the stock should be preceded by extensive research and careful planning.