Provision Holding Inc (OTCMKTS:PVHO) Takes A Step Back
tags: PVHO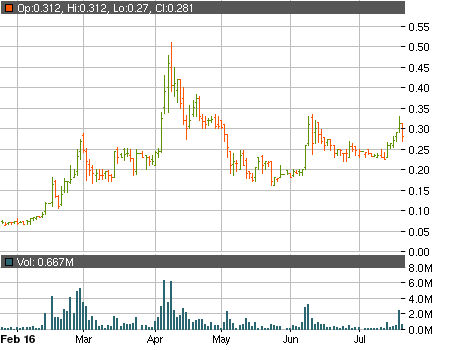 For five sessions in a row the stock of Provision Holding Inc (OTCMKTS:PVHO) was going nowhere but up. The uptrend carried the ticker from a July 14 opening price of 23 cents per share to a July 20 closing price of 31 cents per share. Investors began showing increased support for the company following PVHO's announcement that a major pharmaceuticals company will be promoting one of its consumer health care brands on Provision's 3D Savings Center kiosks. This Wednesday the company announced yet another new client – AQUAhydrate will do a national advertising campaign for its water brand on PVHO's kiosks.
The stock, however, appears to have reached some highly unstable price ranges and yesterday it suffered a steep correction. The ticker began falling down right from the opening bell and by the end of the session had slashed 9.92% of its value, closing at $0.281 per share. Will the slide stop here or will PVHO lose even more of its recent gains?
The financial state of the company definitely sets it apart from the majority of the other pennystock ventures. There aren't that many pennystock companies that can boast having over $2 million in cash reserves and around the same amount in quarterly revenues. PVHO's balance sheet still raises some concerns, though, with the company having a working capital deficit of approximately $4 million and a net loss of over $900 thousand at the end of March.
The outstanding convertible debt is another reason for concerns. In the nine months ended March 31, 2016, PVHO sold $4.1 million in convertible notes with a conversion price of $0.10 per share. At the end of June the company managed to exchange promissory notes convertible at $0.03 for new ones with a higher conversion price of $0.10. As part of the agreement PVHO will also have to issue warrants with an exercise price of $0.15. Even these prices, however, represent a significant discount to the current market price of the company's stock.
When deciding whether to put any money into the stock or not you shouldn't overlook the fact that PVHO is quite often targeted by paid pumps. On Tuesday the pump outfit Winston Small Cap issued two emails for a $7,500 compensation while otcmagic bagged $4000 thousand for a single email. The paying party for both pump newsletter was one and the same – ALG Financial, LLC.