Sanomedics Intl Hldg (OTCMKTS:SIMH) Pumped to Life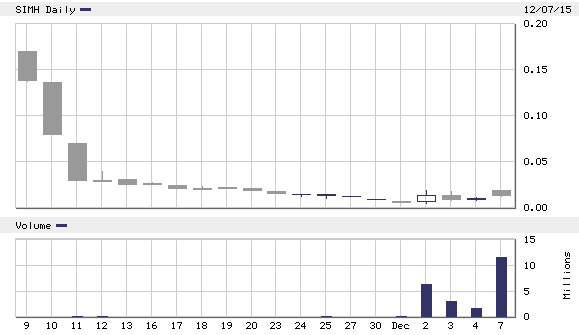 Damn Good Penny Picks, its affiliated newsletters as well as a few other promotional outfits received a grand total of $32 thousand and with the help of some emails, they tried to convince their subscribers that investing in Sanomedics Intl Hldg (OTCMKTS:SIMH) is a really good call at the moment. They told everybody who cared to listen that the ticker is "the next big winner", that the float is thin, and that there's a 100% upside. Quite frankly, we don't know what they're on about.
The stock doesn't look like the next big winner, not least because the company behind it isn't really doing very well. Proof of this can be found in the 10-Q for the third quarter of this year which looks like this:
cash: $21 thousand
current assets: $54 thousand
current liabilities: $6.9 million
quarterly revenues: $92 thousand
quarterly net loss: $2.1 million
As you can see, things are not going well. The balance sheet is an absolute nightmare and the losses are quite huge. The statement's only redeeming feature lies with the fact that the revenues have grown by about 10% on a year-over-year basis. And that tendency might not continue for much longer.
SIMH's revenues during Q3 came from its Thermomedics subsidiary which is in the business of manufacturing and selling infrared thermometers. Unfortunately, a few months ago the management team realized that they don't have the necessary resources to continue supporting Thermomedics' business which is why, in October, they agreed to sell the daughter company to PositiveID Corp (OTCMKTS:PSID).
In its place, SIMH said that they will acquire an entity called The Brace Shop LLC which allegedly has around $7 million in annual revenues, but a couple of weeks ago, they announced that the deal has been terminated because Lynne Shapiro, Brace Shop's owner, has decided that she doesn't want to sell her business. This doesn't seem to be the case. On December 2, another penny stock company called Veriteq Corp (OTCMKTS:VTEQ) announced that it is about to acquire The Brace Shop LLC and promised that the deal will be closed before the end of January.
Basically, if SIMH sells Thermomedics to PSID, it will be faced with a very real danger of being left with no active subsidiaries whatsoever which makes it a very risky proposition. And that's before we even get to the problems with the toxic debt and the dilution which has absolutely mangled the share structure.
The company's books really are filled to the brim with convertible notes which can be turned into shares of common stock at discounts that range from 15% to 50%. Quite a lot of conversions took place over the last year or so which means that SIMH were forced to conduct not one, but two reverse splits in the span of just eight months. The second one was rather massive (1 for 4,000) and it left the company with less than 100 thousand shares issued and outstanding on October 13. Just a month later, however, the O/S count was already hovering around 8.3 million and it's more than likely that it's sitting much higher at the moment because during yesterday's session alone, investors managed to trade nearly 12 million shares. Splat goes the "thin float" theory.
Despite all the humongous red flags, the pumpers were relatively successful in inflating SIMH's share price. As you can see, the volume is decent enough and although the climb hasn't been as consistent as some may have hoped, the ticker did manage to reach a close of $0.014 per share yesterday. In light of all the problems outlined above, however, it will most likely have some serious problems staying there.