What's the Story With MaryJane Group Inc (OTCMKTS:MJMJ)?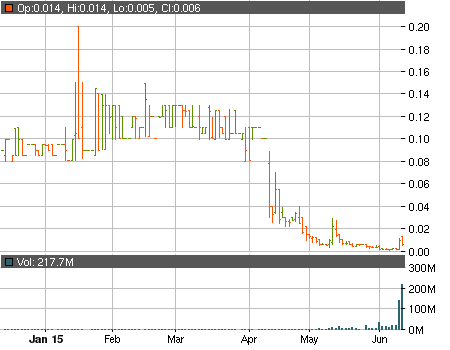 The last couple of sessions have been exciting for MaryJane Group Inc (OTCMKTS:MJMJ) shareholders, to say the least. The company's share price went from a the bottom end of double zeroes to $0.01 per share on Tuesday, driven by a new press release from MJMJ. Yesterday's session pushed MJMJ 42% down from its newfound high.
The company jumped the impressive 488% on Tuesday thanks to the announcement that the CannaCamp, the first cannabis resort in the U.S., had opened for reservations. The CannaCamp is located on the premises of the Wilderness Trail Ranch, a family-operated hospitality business near Durango, Colorado.
The unique spin MJMJ offers with its "CannaCamp" is the addition of thematic activities for cannabis lovers, as well as a "cannabis concierge" who can advise guests and offer special discounts at certain dispensaries. This special treatment does not come cheap. While the Wilderness Trail Ranch has no price listing on its website, the CannaCamp site has a booking interface, which reveals that a single night for two at the smaller type of cabin on offer costs a whopping $828.
What is just as interesting about MJMJ is the company's share situation. A filing dated June 8 details that Magna Equities I, LLC held 12.6 million MJMJ common shares, that comprised 9.99% of the total 126,662,847 outstanding shares of the company. Curiously, on the very next day MJMJ shifted 142 million shares in a single session. Yesterday's daily volume escalated even further to 219 million shares.
While the 142 million in daily volume were a curiosity, yesterday's 219 million make it seem awfully unlikely that MJMJ is still at 126 million outstanding shares in total. While there is no official filing to back this up, it would seem the company's common stock has been diluted to kingdom come within the matter of 48 hours. On May 11 MJMJ approved the fivefold increase of its authorized shares from 200 million to 1 BILLION, so the sky is the limit.
It should be noted that as of March 12 this year, MJMJ had just 21 million common shares, which means even at the 126 million shares reported on June 8, the company had already diluted its retail shareholders some 500% within the space of three months. The 219 million shares traded yesterday indicate that this percentage may actually be much higher.