NuGene International Inc (OTCBB:NUGN) With a Belated Bounce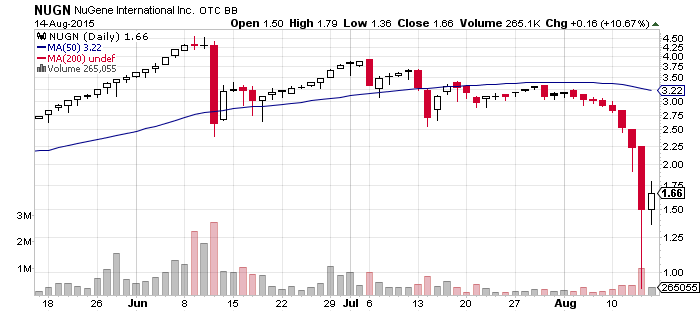 NuGene International Inc (OTCBB:NUGN) has been one of the worst performing stocks from the last few months. After an impressive run during the first weeks of active trading, it found itself sailing above the $2 per share mark. It was a bit hesitant at times, but despite this, it managed to push further up and in June, it reached more than $4.50 per share.
Then, it started crumbling. This wasn't really that much of a surprise, though, because NUGN reached the highs mentioned above solely because of a massive hard mailer pump. The volumes remained strong, but the ticker's performance was underwhelming and about a month after reaching $4.50, NUGN found itself hovering around the $3 mark.
A second round of glossy brochures full of pictures of former models and unrealistic price targets was unleashed at the end of last month. The newer leaflets claimed that the budget has been increased from $2.9 million to $5.8 million, but despite the bigger compensation, the pumpers failed to give the ticker a second boost. In fact, all they managed to do was accelerate the fall.
Eight consecutive red sessions were logged between August 4 and August 13 and during that time, NUGN dropped from just under $3.20 per share all the way to $1.50. Last Thursday saw the ticker hit an intraday low of less than $1 per share for the first time in its short trading history. That's a curious fact because NUGN did it on the day after the company published a 10-Q that reports a 152% increase in revenues on a year-over-year basis.
The people who fell for the second round of paper mailer brochures are now probably quite upset, but is there a light at the end of the tunnel for them?
Well, NUGN bounced on Friday and it reached $1.66 per share. Although the company issued its 10-Q five days ago, the management team decided to summarize the report's contents in a press release earlier today. The emphasis was put on the revenue growth and this is definitely affecting the stock performance. About thirty minutes after the opening bell, NUGN is sitting at $2.10 which is approximately 26% in the green.
But does this mean that it can continue north and possibly reach the levels it was occupying several months ago?
Unfortunately, when the pumpers are involved, any sort of sustained performance becomes unlikely. Indeed, the current run is quite exciting and if you time your trades well, you might be able to walk away with a profit. Stay too long, however, and you could end up seriously burned. Especially if the people who got 11.1 million shares at a split-adjusted price of $0.0033 decide to unleash what they have left of their holdings on the open market.