"MicroCapFeed's streaming filters never leave my desktop...as a pro day trader, choosing to use MicroCapFeed's research platform was an easy decision. Whether searching for abnormal volume, 52 week breakouts or L2 service. Microcaptrade simplifies my investing strategy."

-Steve, Philadelphia, PA
MicrocapFeed Stock Screener
If you are a penny stock daytrader who trades either from home or from the office, subscribing to MicrocapFeed Individual will be the smartest and easiest decision you can make.
Finally, you can take advantage of the same high-end technological tools and benefits which are currently enjoyed by the industry's most successful and skilled OTC:BB/Pinksheet microcap traders.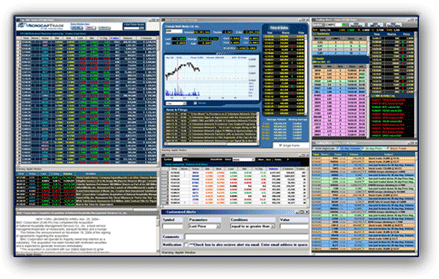 MicrocapTrade, understands the demanding needs of active microcap traders who focus strictly on trading OTC Bulletin Board and Pinksheet equities. By subscribing to our industry-leading microcap Decision Support System built for individual traders, MicrocapFeed Individual, you will have the latest real-time daytrading technology at your fingerprints which will elevate your trading to new heights.
Which Markets Are Covered
MicrocapFeed provides full tick-by-tick coverage of all equities traded on the three main U.S. microcap equity segments:
It is the only high-end market data and news platform that brings sophisticated, professional-level transparency to the once-neglected lower echelon of the securities market. The MicrocapFeed Individual service is the serious choice for the active microcap trader.
Why Choose Our Partner MicrocapFeed?
Since 2001, the world's best microcap stock traders have chosen MicrocapFeed. Our specialized market data platform is relied upon by the OTC:BB/Pinks Trading Desks of the largest Market Maker firms as well as by experienced inidivdual traders who have been trading microcap pennystocks for years.
Trading high-risk OTC:BB and Pinksheet stocks is serious business and requires serious tools. If your goal is to take a calculated, professional approach towards your daily microcap trading, then our technology service will be your key to success.
Reliability From a Company You Can Trust
MicrocapFeed is operated and powered by MicrocapTrade, Inc. As the financial industry's most respected provider of microcap market data and trading platforms, MicrocapTrade is firmly at the forefront of real-time transparency for this niche segment of U.S. securities. The company's original flagship service - MicrocapFeed Professional - is used by professional market makers, broker-dealers and hedge funds. Now MicrocapTrade is extremely pleased to have finally leveled-the playing field for the Individual "at home" trader by offering MicrocapFeed Individual!